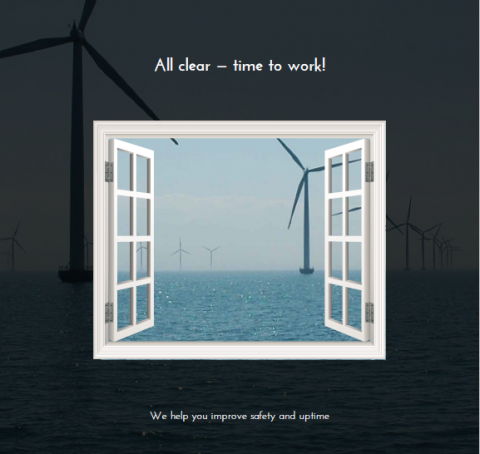 Summary
How we help improve safety and uptime in offshore operations
Weather forecasters assist in keeping offshore operations safe and efficient. Learn here how we work
Weather windows
We work with weather, so consequently our clients' work days are weather dependent. Their work days may stop, if winds are too strong, the waves too high, the air too moist, thunderstorms approach etc. This is often called downtime or closed weather windows. As changing the weather conditions is not an option, we better make the most of the open weather windows that are given. In order to advice about the most efficient schedule, knowledge of the clients' operational setup and requirements needs to be combined with specialised metocean forecasting skills.
Raw forecast data are good, but not perfect. Planning offshore work only assisted by data from numerical forecast models will not always prove too be optimal. A specialised marine weather forecaster can supplement and give heads-up regarding the weather development, when the weather forecast fails to do so.
The method that the weather forecaster uses to provide an operation manager with valuable information, is depending on how far into the future, they are planning the work. Therefore, the next three sections will view the approach of a weather forecaster relative to the forecast length.
Here and now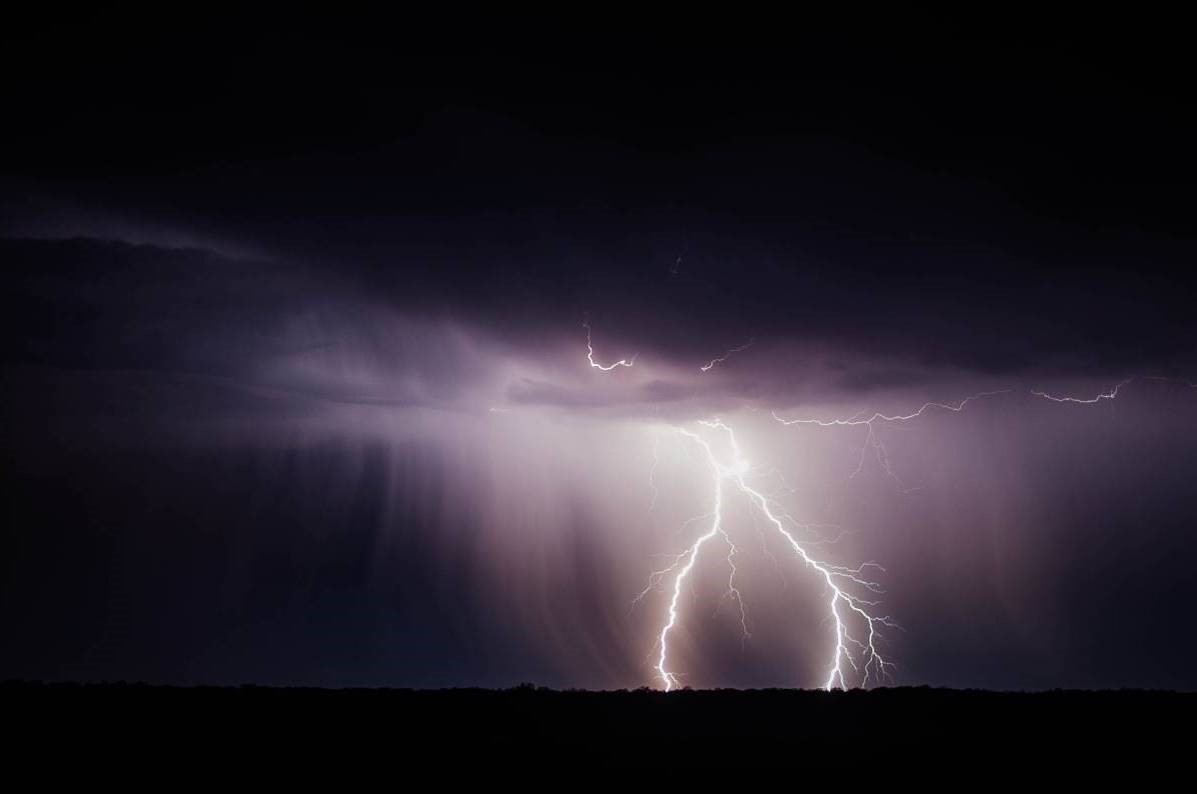 This is called nowcasting and focuses on the time from right now and a few hours ahead. The operation manager is following a premade plan and now the question is: "Is the forecast accurate? Will there be more or less time on site? Here the two main services are briefings and lightning alerts.
Briefings consist of whatever the client needs. Perhaps they have a tight schedule and want to double-check more exactly, when the wind actually will increase above a certain limit or how we expect the visibility to be. What does the weather forecaster do, when getting these questions about something that will happen within a few hours? It always depends on the situation and the specific questions, but usually it starts with us evaluating the forecasts against reality. We let this information pass through our specialist brains for some analysis. Is there any discrepancy between the forecast and observations due to slightly different weather development or just a delay in the forecasted weather development? Based on the analysis, we then give our view on the development and what we think about the timing of weather windows. Trickiest is always when conditions are expected to be close to a certain weather criterion all day, but possibly have a brief open window with conditions just below the criterion.   
Issuing lightning alerts is a safety task and to a lesser degree an optimizing task. Thunderstorms and lightning are in general rather poorly forecasted in numerical models. To take care of this issue, we have our own ways to predict the risk of lightning a few days in advance, but more about that in the next section. The nowcasting part of lightning alerts, is done by keeping ourselves updated on cloud development and movements. This is mainly done by observing satellite images of clouds, observations of convective rain (from showers), lightning strikes regionally, wind, humidity, temperature etc. and also forecast data of the same parameters. A common mistake is to only monitor lightning strikes – just like some automatic lightning detection systems, which for instance do not take the heading and speed of thunderstorms into account when dealing with safety at sea. These systems only alert of past lightning strikes instead of forecasting high-risk periods – and this may be too late.
The importance of cloud development is often neglected. If a potential thundercloud is going to pass a site, we would like our clients to know about it before the first lightning strike has been detected - the first strike could hit the site. Many offshore tasks need some hours heads up to take proper care of safety. So, if the lightning risk is not monitored closely, it will not be possible to predict lightning with a reasonable heads up.  
Today and tomorrow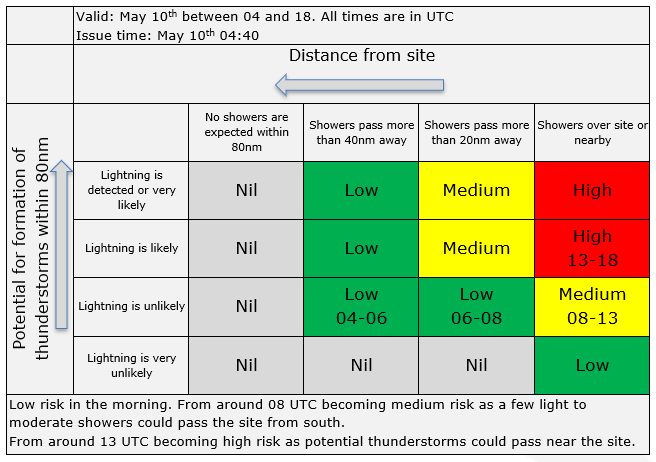 Our primary focus here is to comment on metocean forecast conditions in such a way that it is useful when planning - beginning with writing a brief description of the weather development as a base. This is used when we evaluate the raw weather forecast data our clients receive by mail as graphs and tables. We don't change the forecasts, but we write about their reliability or if the conditions will become better or worse than indicated. We more or less evaluate whether they can work or if we see shorter or longer periods, where it will be difficult or impossible to work. Based on this information, a briefing next day may be needed in order to get the precise timing and duration of down time periods.
In addition to this, we also write the forecast for a few parameters that have significance for the operation but are poorly predicted by even the best numerical forecast model, for example risk of fog, ice accretion and as mentioned earlier the risk of lightning. Potentially, the most important forecast when talking safety, is prediction of lightning and thunderstorms - it is a matter of life and death.
We have our own way of doing this, that has made a difference for our clients. Hour by hour we indicate the lightning risk by four different categories: Nil risk, low risk, medium risk and high risk. The category depends both on the distance from the thunderstorm to the site and the likeliness that showers will cause lightning a given day. We call it risk, since, as mentioned before, it depends on the real-time development of the cloud the coming day. That is, all the right meteorological conditions for a cloud to develop into a thunderstorm may exist, but in the end the development may stop before becoming a thunderstorm or the track of a thunderstorm might change slightly. The forecast itself is based on different forecast parameters, a few rules of thumb and a lot of experience.  
The days after tomorrow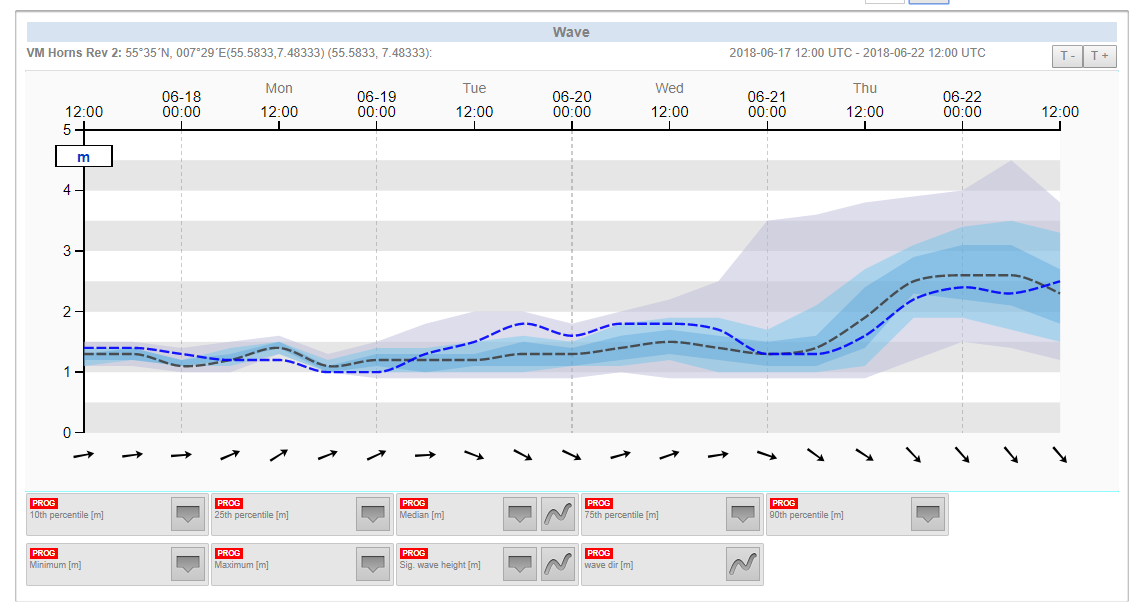 In general, we forecast five days into the future, but at times ten or at special occasions even longer. Let's keep to the general case here. We again start with an outlook of the expected weather development of the coming days. The forecast for these few days ahead is more used as indications of how close to reality we think the numerical forecast models are, since the forecasts quality often gets poorer with time. The confidence level of the forecast data is therefore also evaluated. This gives information to our clients, when they look ahead for workable days. This allows them to plan how many men should be taken on to the next shift or if special operations can be scheduled. For special operations, more elaborated forecasts and general briefings are needed.